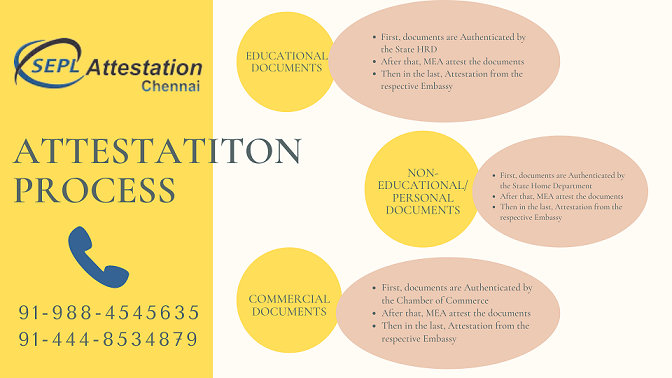 Most of us dream of working in a high-end multinational company and living a luxurious life abroad. This will not only allow you to built your career but will also help you understand their culture better. However, the more exciting all this sounds, relocating to a foreign destination can be a really daunting and troubling task, and all your troubles start with document attestation. Certificate authentication is a necessary requirement for all Indian as well as foreign-issued documents if they are intended to be used overseas. If you are having troubles getting your documents attested, then plenty of companies are providing services for certificate attestation in Chennai and other states of India.
Educational documents, especially degree certificate, are required for numerous purposes overseas. Employees working in foreign countries need to present their educational certificates while applying for a work permit, for getting a salary and designation appraisal, and various other reasons. Before proceeding further, let's firstly learn about the degree attestation procedure.
Degree Certificate Attestation Procedure 
Let's take a quick glance at the Indian degree certificate attestation procedure.
1.Notary Attestation
The first step of the Indian degree attestation is notary attestation. Submit your documents with a Notary Public for the notary stamp. Certain documents require notary attestation while others don't.
2.HRD Attestation
After notary, the degree certificate will be authenticated by the Human Resource Development (HRD). HRD first verifies the document with the concerned school or university and later on authenticates it with official stamp and signature. The HRD attestation is essential for all Indian educational certificates.
3.MEA Attestation
Thirdly, the degree will be attested by the Ministry of External Affairs (MEA), Government of India. The MEA generally takes a day or half for attesting the original copy of a document, Also, if the document is found forged, it will be seized by the Ministry, and penalties or fines will be imposed on the applicant.
4.Embassy Attestation
Eventually, the degree certificate will be attested by the Embassy of the respective country the applicant is planning on visit. The Embassy only accepts a document for attestation, once it is verified and authenticated by all the above three authorities.
For an easy and hassle-free attestation, hire an expert and experienced company. You will easily find plenty of companies providing attestation services such as UAE Embassy attestation in Chennai. Seeking professional assistance for reliable and error-free work is always recommended, especially to newcomers. The MEA has outsourced a few companies for attestation, and you can do a little research for knowing about these outsourced companies.