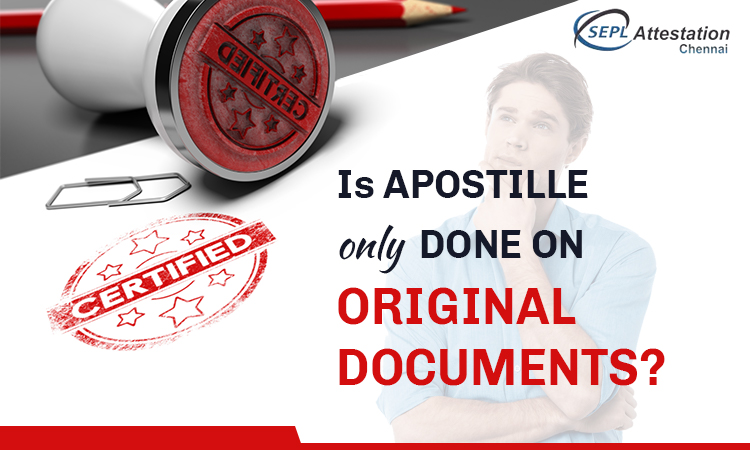 When we move from our native country to a foreign country on a mission to find a job or study abroad, we need some documents. For instance, we need educational documents for education in a foreign country. On the other hand, to get a job in any foreign country, the employer asks for our study certificates, last or current company salary slip, experience letter, etc.
Furthermore, there are other documents, such as a police clearance certificate (PCC), birth certificate, and medical certificate, which we need to shift from our native country to a foreign nation for work, study, business, or residence.
But, there is a twist. We cannot use our legal documents in a foreign country without the stamps and signatures provided by some government authorities of our native nation.
Apostille is an attestation done on our education, personal, and commercial documents.
In this blog, we have covered the following topics;
Is Apostille Done on Original Documents or Photocopied Documents?
What is this Apostille?
Why is Apostille Important?
What is the Procedure of Apostille?
Countries Where Apostille is Compulsory
Is Apostille Done Only on Original Documents?
Three categories of documents need an apostille for use abroad, and they are:
Educational documents, like your degree, diploma, school certificate, etc.
Personal documents, like your birth certificate, marriage certificate, medical test certificate, police clearance certificate, someone's death certificate, etc.
Commercial documents are your invoice, letter of origin, the bill for international trade, business, etc.
Traditionally, an apostille is a stamp and sticker placed on original documents related to the study and personal. But, in the case of commercial use, some commercial documents processed as copies can get an apostille for use in a foreign country.
As per the instructions of the Ministry of External Affairs (MEA) of India, an apostille is the service only provided on the original or some duplicate documents.
What is this Apostille?
Apostille is a sticker and stamp generated by the Ministry of External Affairs (MEA) on our legal documents for use in the Hague Apostille Convention 1961 member countries.
Now, what is the Hague Apostille Convention 1961?
There are two types of certificate attestation, the first one is embassy attestation, and the second one is MEA apostille.
Embassy Attestation is the oldest confirmation of your document authentication done by the foreign country embassy where you are going for study or a job.
On the other hand, an apostille is the attestation thoroughly done on documents copies or originals by the Ministry of External Affairs (MEA) of your native country.
The embassy of a foreign country does not have a role in the procedure of the apostille. The embassy accepts your document along with the MEA apostille.
We can define an apostille that the embassies trusting the MEA of your country have verified your original documents and commercial photocopied documents. So there is no need for the foreign embassy to check and attest your apostilled documents.
The Hague Apostille Convention 1961 is the act followed by some countries where apostilled documents have the same validity as attested documents.
Why is Apostille Important?
Like from the start of the blog to this point, we are sharing that apostille is what you need for legal documents used in the Hague Apostille Convention country. Hence, there is no other reason for getting your educational, personal, or commercial documents apostilled.
We need an apostille sticker and stamp on our original documents if we want to use them to study, do a job, do business, international trade, marriage, divorce, or do anything else in a foreign country.
Do I need to apostille my documents to travel abroad?
No, an apostille is not what you need to explore an apostille convention member country on a tourist visa. Attestation is only required to get a study, work, and residence visa.
What is the Procedure of Apostille?
There are three documents for apostille – educational, personal, and commercial. But the state department that verifies educational, non-educational, and commercial certificates prior to the MEA is different.
Here is the Procedure of Apostille.
Educational document verification is the responsibility of the State Human Resource Development Department (HRD). The HRD cross-checks and confirms the documents are authentic for further apostille procedure with its HRD attestation. After HRD, the MEA apostille the document to submit to the foreign authorities for study, job, or business.
Personal documents are thoroughly checked and attested by the State Home Department. Once the records received attestation from the State Home Department, the MEA places an MEA apostille stamp on each personal document and demonstrates them as authentic for use in a foreign country.
The last is the commercial documents that the Chamber of Commerce verifies and attest prior to the MEA. After the Chamber of Commerce attestation, the certificates are carefully collected by the attestation agency expert and submitted to the MEA for MEA apostille.
Yes, the apostille procedure includes only two simple steps, state attestation, and MEA apostille. The apostille procedure is easier than the general certificate attestation.
Countries Where Apostille is Compulsory
The following are the member countries of the Hague Apostille Convention 1961, where the apostille certificate is usable and accepted.
A
Albania
Andorra
Antigua and Barbuda
Argentina
Armenia
Australia
Austria
Azerbaijan
B
Bahamas
Bahrain
Barbados
Belarus
Belgium
Belize
Bolivia
Bosnia and Herzegovina
Botswana
Brazil
Brunei Darussalam
Bulgaria
Burundi
C
Cape Verde
Chile
China (Hong Kong)
China (Macao)
Colombia
Cook Islands
Costa Rica
Croatia
Cyprus
Czech Republic
D
Denmark
Dominica
Dominican Republic
E
Ecuador
El Salvador
Estonia
F
Fiji
Finland
France
G
Georgia
Germany
Greece
Grenada
Guatemala
H
Honduras
Hong Kong
Hungary
I
Iceland
India
Ireland
Israel
Italy
J
Jamaica
Japan
K
Kazakhstan
Korea
Kosovo
Republic of Kyrgyzstan
L
Latvia
Lesotho
Liberia
Liechtenstein
Lithuania
Luxembourg
M
Macao (China)
Macedonia (FYR of)
Malawi
Malta
Marshall Islands
Mauritius
Mexico
Monaco
Mongolia
Montenegro
Morocco
N
Namibia
Netherlands
New Zealand
Nicaragua
Niue
Norway
O
Oman
P
Panama
Paraguay
Peru
The Philippines
Poland
Portugal
R
Republic of Moldova
Romania
Russian Federation
S
Saint Kitts and Nevis
Saint Lucia
Saint Vincent and the Grenadines
Samoa
San Marino
Sao Tome and Principe
Serbia
Seychelles
Singapore
Slovakia
Slovenia
South Africa
Spain
Suriname
Swaziland
Sweden
Switzerland
T
Tajikistan
The former Yugoslav Republic of Macedonia
Tonga
Trinidad and Tobago
Tunisia
Turkey
U
Ukraine
United Kingdom of Great Britain and Northern Ireland (UK)
Uruguay
United States of America (USA)
Uzbekistan
V
Vanuatu
Venezuela
So we hope that through this blog, we have given you a clear thought about MEA apostille attestation.
Where Can I get Apostille done on my Duplicate Documents ?
You can contact us for document apostille services.
The MEA has approved us to provide the service of an apostille. The MEA apostille the documents through its outsource apostille and attestation agencies like us. We have been helping people to get their documents apostilled for many years. So you can count on us for document apostille services.