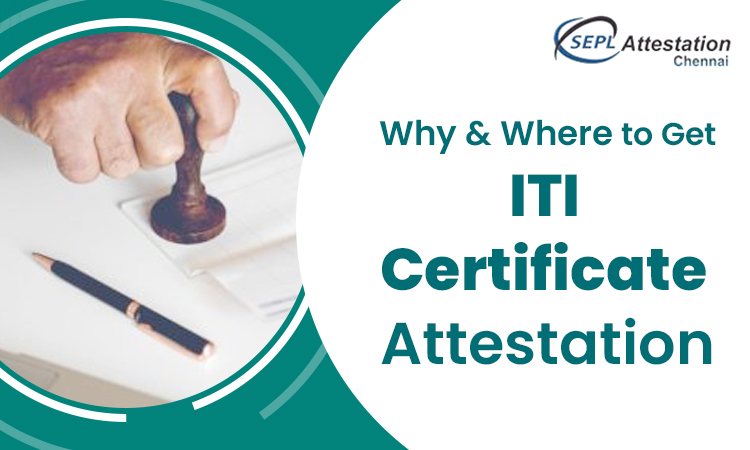 Industrial Training Institute, ITI certificate is mandatory to get a job in the IT industry. You can use this certificate with no attestation in your home country. However, ITI document verification is a task accomplished for ITI certificate attestation to secure a job abroad.
Attestation on your legal documents is vital to study abroad, work in a foreign country, do business abroad, and marriage to a foreign nation citizen. There are three types of documents attested by the government authorities and the embassy of your destination country – Educational, Personal and Commercial.
An ITI certificate is an educational document attestation for use abroad for job and study purposes.
This blog contains the following topics linked with ITI document verification.
What is an ITI certificate?
What is ITI certificate attestation?
Why is ITI certificate attestation mandatory?
What is the procedure for ITI document verification?
What are the documents required to apply for an ITI document verification?
Where to get ITI Certificate Attestation?
What is an ITI Certificate?
ITI certificate confirms that you have gained knowledge and completed education from a recognized Industrial Technical Institute. Students with an ITI certificate can apply for employment in the sectors like Railways, Telecom, State-wise PWDs, and the Indian Armed Forces.
What is ITI Certificate Attestation?
Attestation is a confirmation that the applicant's document is authentic and verified by the government authorities of his native country and the embassy of the applicant's destination country. When we move from our native country to abroad, attestation is what we need on our legal documents to prove they are authentic and authorised. No one can use his legal documents abroad for education, employment, residence visa, work permit, business, etc., without attestation.
If you are someone who has saved a job abroad based on your ITI certificate, you need to apply for attestation services to use your documents abroad.
In a nutshell, attestation is a verification of your educational, personal, and commercial documents for use abroad. An ITI certificate attestation confirms to the authorities of the foreign country that the document is verified and authenticated.
Why is ITI Certificate Attestation Mandatory?
As mentioned above, attestation is mandatory for using your ITI certificate in a foreign country. Your employer needs your ITI certificate with attestation to apply for your work visa. Once you reach your destination country and join your employer, apply for a residence visa and work permit. You need your attested ITI certificate with your police clearance certificate, medical certificate, employment letter, etc., to fill up the application form for a residence visa and work permit abroad.
An ITI certificate attestation is one of the prerequisites to complete to avoid document forgery and fraud. Also, this task is vital to prove that you have gained the required education to be a technical worker abroad.
What is the ITI Document Verification Procedure?
Attestation means verification of a document. ITI certificate is an educational document verified and attested by the following authorities.
1. HRD Attestation
The State Human Resource Development (HRD) Department of the country that issued the certificate will verify the document and place HRD attestation on your documents to confirm it is authentic for use abroad.
2. MEA Attestation
The Ministry of External Affairs (MEA) of your country, which handles all the international relationships for the country, confirms the document is authentic with HRD attestation. It is the last verification of documents done from your native countryside.
3. Embassy Attestation
The embassy is the official foreign diplomat situated in your country. The embassy of your destination country places an attestation on your ITI certificate and demonstrates that the document is authentic for international use.
These are the departments involved in the ITI certificate attestation procedure.
What is the Document Required for your ITI Document Verification for Attestation?
The legal authorities accept applications for document attestation through their authorised agencies. The MEA has officially approved Superb Enterprise Private Limited (SEPL) for supporting the applicants and the government officials with document attestation services. You cannot directly approach the government authorities for your ITI certificate attestation.
Submit the following documents to the SEPL attestation Chennai group for faster processing and secure certificate attestation services.
A copy of your legal passport
Your original ITI certificate
An Authentication letter
An authentication letter from your side confirms to the authorities that the SEPL group is completing your documents attestation process on your behalf.
Read about what is an authentication letter & how you can write one for your document attestation.
Where to Get ITI Certificate Attestation?
ITI document verification or ITI certificate attestation is the same task accomplished by the legal authorities and the embassy of the foreign country. This service is vital to use your certificate in a foreign country for a job and study. With no attestation on your ITI certificate, it will be considered non-authorized.
SEPL Attestation Chennai is one of the branches of Superb Enterprise Private Limited to help and accept applicants with legal and authentic attestation services in Chennai.